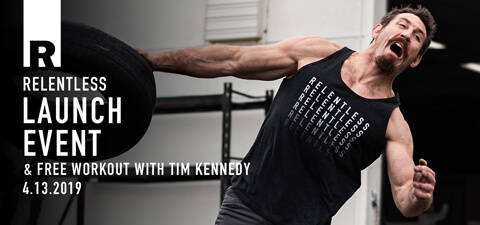 Details of the Event:
First access to Relentless supplements and apparel
Meet Tim Kennedy and the rest of our Relentless team
Workout with Tim and Alpha Warrior
Yoga with Jackie Ey
Silent Auction benefitting Hire Heroes USA
Cuvee Coffee
Food Trucks: East Side King and Ranch Hand
Free Samples
Location:
Fair Market 1100 E 5th St.
Schedule:
10:00am–10:45am Workout #1
10:00am–11:00am Yoga
10:45am–11:30am Workout #2
11:00am–2:00pm Event open to the public
2:00pm Send off from Tim Kennedy

About Us:
Relentless sets the expectation. In yourself and others, you demand the best. You don't settle. When you feel like you've reached the apex of what you can achieve, you find a way to propel yourself further because you know there is no end to what you can become. To how strong you can get. To the knowledge you can attain. To what you can create. To the energy you can inspire in others. You have the passion. Relentless creates the products to help you maximize your pursuit.
Relentless builds products designed for an unrelenting lifestyle:
On-The-Go Packaging
Fully dosed, whole food ingredients
No artificial flavors, colors, or sweeteners
Clinically studied ingredients
Informed-Sport certified for no banned substances